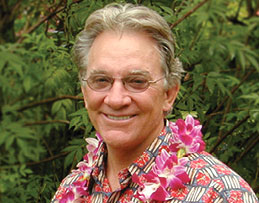 "Every day is a gift" says John C. Ferry. This positive outlook, among other things, is what has propelled John and his company, Coldwell Banker Bali Hai Realty, into the successful and leading boutique real estate company on Kauai, Hawaii.
John founded Bali Hai Realty in 1978 with the finest Kauai brokers, individuals with a love of Kauai, demonstrated expertise, and aloha. Bali Hai is now a Global Luxury℠ Coldwell Banker office and is consistently one of the top five Coldwell Banker offices nationwide, having done over $2 Billion in transactions.
With his vision and real estate expertise, John has been involved in the creation of incomparable and award-winning property developments on the North Shore of Kauai. One of his projects includes the thoughtfully planned Anini Vista development. The land was purchased by the legendary Harry Weinberg Philanthropic Foundation and was then developed and represented by John C. Ferry and Bill Dornbush of Dornbush & Co. Ltd. John also received the AIA House of the Year award for architecture as well as the concrete Award of Excellence for a house he designed and built at Anini Beach.
The core of John's success is his dedication to his client's best interest. His knowledge, expertise and aloha leave a lasting impression on them.
In addition to running a successful company and helping his clients, John takes time to give back to his community. John's passion for Kauai's people and its land is legendary on the island. He is respected and loved by the local residents for his generosity and participation in local organizations such as the board of the YMCA, G.N. Wilcox Memorial Hospital Foundation, Kilauea Light House Restoration, and Kauai Public Land Trust. He is a member of the Historic Hawaii Foundation and the Kauai Historical Society. The Hanalei North Shore Rotary Club recently named John C. Ferry and Bali Hai Realty as the North Shore Business of the Year for their many contributions to the community.
John loves spending time with his family. He has been an avid athlete all of his life, competing in triathlons, marathons, paddling the Molokai Channel, swimming the Na Pali coast and skiing in the winter months. He especially loves to travel and often takes his family to faraway places, so that when they return to Kauai they realize what a special place it is. He enjoys his vast network of friends and clients and takes every opportunity to get them out onto the sea or on a hike to one of his favorite waterfalls. John loves Kauai and will share that aloha with you.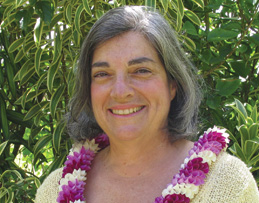 Barbara L. Sloan has been a licensed professional at Bali Hai Realty since 1992. With over 25 years of experience in all aspects of real estate, she remains consistently at the top of her field. Barbara is known as one of the most diligent and honest realtors in the industry, with great follow-through and keen organizational skills.
Barbara grew up in the family candy store, and after graduating with a BA in Art History, had a short but illustrious food career at Patisserie Lanciani in the West Village of Manhattan. She started her real estate career with a coop in the East Village, and continued buying and selling properties until she moved to Kauai.
"Sloan Puts the Real in Realtor" –The Garden Island Newspaper
Barbara's specialty is marketing luxury estates, but she is an experienced agent in all levels of real estate. Her knowledgeable, no-gimmick approach includes full-page advertising in local and worldwide real estate magazines, sophisticated brochures, and virtual tours. She was rated the top residential realtor on Kauai in 2008 according to Hawaii Business Magazine and one of the top 100 realtors in 2012. Barbara has received a wide variety of Coldwell Banker awards, including Top Ten Team Awards in the Western Region in 2011, and was rated one of the Ten Most Dependable Luxury Real Estate Professionals of the West by Forbes magazine in 2008. She was also included on the prestigous list of the Top 1000 Sales Professionals nationwide according to the Wall Street Journal and Real Trends.
When outside of the office, Barbara enjoys cooking and house renovations.